Ashurst strengthens Middle East presence with Riyadh launch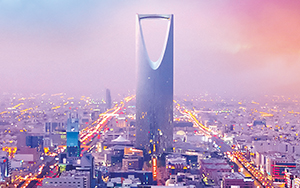 The Riyadh capability, spearheaded by partner Bilal Rana, will focus on PPP and project finance, developing a regional Islamic finance practice and offering corporate services in the region.
Ashurst is set to boost its practice in the Middle East with the launch of a new capability in Riyadh spearheaded by partner Bilal Rana.
Bilal joins from Clifford Chance where he has been a part of the project finance group since 2014. He specialises in advising regional and international financial institutions, borrowers and sponsors on Islamic finance and project finance transactions. Bilal began his career at Linklaters in London in 2005, prior to moving to Saudi Arabia in 2009 with Baker & McKenzie.
The Riyadh capability will focus on PPP and project finance, developing a regional Islamic finance practice and offering corporate services in the region.
Ashurst has an existing presence in Saudi Arabia through its association with Faisal Adnan Baassiri Law Firm, which was established in 2013. Its Middle East oil and gas team has also recently been bolstered with the transfer of John King, senior energy and resources counsel from the firm's Perth office to Abu Dhabi.
Joss Dare, head of Ashurst in the Middle East, said, "Saudi Arabia is undergoing a period of rapid and far reaching change, both as a society and as an economy. There are significant opportunities that fit well with our regional strategic focus on the energy, transport and infrastructure industries. This is an exciting development which builds on our established association with Faisal Adnan Baassiri Law Firm to enhance our Saudi capability and demonstrates our full commitment to growing our Middle East offering. We are delighted to welcome Bilal to the team, his extensive experience and skill set is a perfect complement to our projects team and I am confident he will play a valuable role in the success of our new venture."
Faisal Baassiri, head of Ashurst in Saudi, added, "Growing our offering in Saudi is a very exciting prospect and shows the strong commitment of the firm to Saudi Arabia especially in these exciting changing times. Jeddah and Riyadh are quite separate commercially – Riyadh is the centre of government and where most Saudi banks are based and Jeddah hosts some  of the major Saudi corporates. Bilal is a highly respected and experienced practitioner and his arrival will enable our team to capitalise further opportunities and continue to build on our success and excellence in client service."
Bilal Rana added, "Privatisation/PPP is the cornerstone of Saudi Arabian government's Vision 2030 and the National Transformation Programme 2020. Ashurst, as a leader in PPP and infrastructure development, both globally and regionally, offers a very compelling value proposition to businesses operating in the Saudi market. I have been impressed by the quality of the firm's PPP and project finance capability and I am looking forward to working with Joss, Faisal and the wider Middle East teams to further develop the Saudi practice and client base as part of the firm's expanding projects offering."
Recent mandates on which the Middle East team has advised include:
Lamprell Plcon its US$5.2bn. joint venture with Saudi Aramco, Bahri, and Hyundai Heavy Industries Co. Ltd. for the King Salman Maritime Yard.
ArRiyadh Development Authorityon the procurement of the operations and maintenance concessions(s) for Riyadh Metro.
Various biddersand lenders in relation to the Rabigh 3 IWP, Shuqaiq 3 IWP, Dammam ISTP and Jeddah ISTP projects.
Prince Sultan Cultural Centrein relation to its SAR500m bridge financing of the development and construction of the Prince Sultan Cultural Centre and the Medical Park (including related infrastructure) in Jeddah.
Red Sea Gateway Terminalon the Shari'ah compliant financing for the expansion of the Jeddah Islamic Port.
The commercial lendersand Islamic banks in relation to the financing of the Aramco Co-gen IPP sponsored by Marubeni, JGC and Al Jomaih.