Keystone Law Middle East appoints four new partners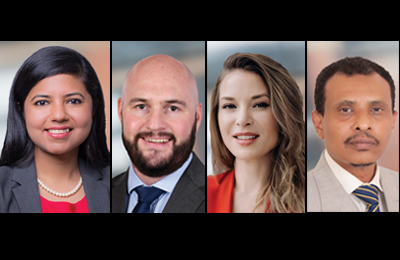 Keystone Law Middle East continues its hiring streak with the addition of four partners during Q2 of 2021. In 12 months of operation, the firm now has 13 partners based in the Middle East.
The new appointments are:
Priyasha Corrie – corporate and commercial joining from Könnected Law, Dubai. She is a corporate and commercial lawyer with over ten years of experience in the Middle East and India region acting for multinational companies, regional conglomerates, small and medium enterprises, and start-ups across a broad spectrum of matters, including domestic and cross-border mergers and acquisitions, complex joint ventures, corporate restructurings, corporate financings, employment, anti-bribery and corruption, and general corporate advisory.
Christian Davies – aerospace, defence & security joining from an in-house position. Davies is a commercial lawyer who specialises in aerospace, defence, security, outsourcing and technology projects. For over 14 years, he has advised on some of the most complex and high value aerospace, defence and security projects in the region. In addition, Davies also advises customers and suppliers on a range of technology and outsourcing projects in sectors including aerospace, defence, health, education and financial services. Having advised government, semi-government and contractors in both the UK and the UAE, he has extensive experience of procurement, bid compliance and procurement reform.
Irina Heaver – blockchain and digital assets joining from Genero Capital, director – legal & strategy. Heaver is a leading cryptocurrency and blockchain lawyer based in Dubai and Switzerland representing clients worldwide. She is highly regarded internationally for her extensive experience and deep technical knowledge of blockchain, smart contracts and cryptocurrency matters. She advises across the value chain in the blockchain space, including multinational companies and protocol developers, issuers of security tokens, DeFi and NFT projects, blockchain infrastructure projects, such as tokenisation platforms, cryptocurrency exchanges and payment providers, funds investing in cryptocurrency and blockchain ventures. She consulted multiple Governments and Regulators on policies surrounding Emerging Technology and drafted crypto-related laws and regulations. With over 17 years of experience gained as a partner in a law firm, in-house as a regional General Counsel, and as a co-founder of a crypto exchange she advised on over USD500 billion worth of projects and transactions in the oil & gas, mining, construction, maritime and technology sectors.
Dr. Ihab Idris – dispute resolution and arbitration joining from SAT Law Firm, Dubai. He is a skilled lawyer and arbitrator based in the UAE, with over 20 years of private practice and in-house experience, delivering legal advice on a range of practice areas covering family law, criminal and civil/commercial litigation with a particular focus on high-profile clients.  Dr. Idris has gained extensive experience in various arenas of arbitration and is an active member of several professional institutions, namely, DIAC, IICRA, CIArb, GCCCAC.