Keystone Law Middle East appoints four new partners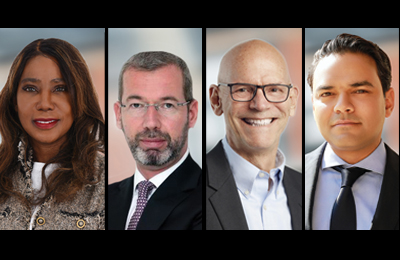 Keystone Law Middle East continues to attract talent from across the Middle East with the recruitment of four new partners bringing the total number of partners in the UAE to 10 since its launch in July 2020.
The new appointments are:
Avril Cole, Corporate and Projects is joining from Clyde & Co, Dubai. Cole is a corporate and projects Partner based in Dubai from where she advises international and GCC-based clients. For the past fifteen years, Cole has built a strong reputation as a trusted advisor to corporates on complex, high-value transactions in the natural resources and infrastructure sectors. She has guided many businesses with respect to their outbound investments into businesses in emerging and frontier markets, particularly in Africa. She has significant experience with mergers and acquisitions transactions, divestitures (asset and corporate), due diligence matters, joint ventures, partnerships and strategic alliances.
Emad Qaitoqa, Real Estate & Hospitality, joins from an in-house position. Qaitoqa has 21+ years of hospitality, real estate, tax, and corporate finance experience. He has successfully negotiated, handled and led complex transactions totalling billions of dollars for residential, retail, and hospitality portfolios. He maintains broad industry experience across the Middle East, having operated as both a partner for PwC Legal and as in-house counsel, he brings together in-depth regional experience with expertise in negotiating and structuring deals.
Michael Hancock, Technology, Infrastructure and Arbitration, joining from private practice. He has extensive legal and business experience gained at Schlumberger (London and Singapore), Alcatel (Paris), Ooredoo (Doha), San Miguel (Manila), Loon (Google – Dubai), and at international law firms (Paris and Istanbul). Today, Hancock mainly advises on technology projects, investments, construction contracts and disputes.
Kamal K. Jabbar, Banking & Finance, joins from Davidson & Co, Dubai. Jabbar is a partner at Keystone Law Middle East LLP with over 18 years of banking, finance, corporate and commercial law experience in the MENA region. An England & Wales qualified barrister, he advises individuals, start-ups and SMEs in mitigating legal risk and expanding their operations in the Middle East and beyond. Prior to joining Keystone Law, Kamal was a Partner at Davidson & Co. heading its Banking and Corporate (non-contentious) division. He has also served as head of legal at Standard Chartered Bank (Pakistan) and its regional senior legal counsel for Africa, Middle East and Pakistan based out of the Dubai International Financial Centre.
Saleem Khokhar, COO of Keystone Law Middle East said, "We are excited by the continued high level of interest from senior lawyers across the Middle East wanting to join the Keystone platform. We are thrilled to welcome Avril, Emad, Michael and Kamal to the firm, all of whom have impressive track records and will significantly enhance our client offering. 2021 continues to be a difficult year, many businesses have and continue to face challenging times due to Covid-19. We are pleased to say our unique revolutionary structure at Keystone is appealing to many senior lawyers looking for more freedom and autonomy in their roles. Our performance-based remuneration structure is unrivalled in the Middle East and is one of the many benefits attracting much interest."