Reed Smith's triple partner hire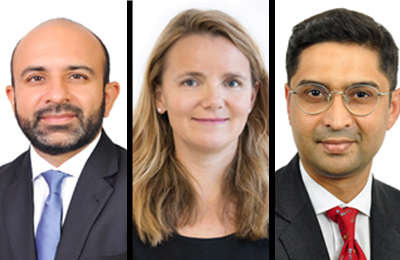 Reed Smith has announced that it will be joined in Dubai and Abu Dhabi by three market leading partners: Sachin Kerur, Michelle Nelson and Shourav Lahiri. The announcement marks a strategic push in the Middle East to enhance Reed Smith's global offering in the construction and projects sectors, as well as boosting the firm's international arbitration capabilities in the region and creating an oil and gas disputes hub in Abu Dhabi.
Sachin Kerur, Pinsent Masons' former head of the Middle East region, will assume the role of office managing partner for Dubai and Abu Dhabi.
"Sachin and Michelle are highly regarded in the region, and we are thrilled to have them join us. They have worked closely with Shourav for many years and together, this team will be a real boost to our Middle East offering and represents a game-changer in the local legal market. Under Sachin's leadership, we are looking forward to growing our platform to increase our services to both local and global clients active in the region", said Tamara Box, managing partner Europe & Middle East.
Listed among the 75 most influential figures in the Middle East construction industry by the region's construction publication, Construction Week, Kerur has advised regional governments and the private sector on some of the most significant infrastructure projects across the Middle East and India. He will bring over a decade of regional strategic leadership experience to Reed Smith as the firm looks to further develop its hub for the Middle East, South and Central Asia, and Africa.
Nelson, also from Pinsent Masons, specialises in international arbitration with special emphasis on high value and highly complex infrastructure, energy and construction projects. She has represented clients in arbitration matters throughout the World, and particularly the Middle East region under a wide variety of arbitration rules, substantive and procedural laws for a variety of clients including major contractors, developers and employers and consultants.  A qualified solicitor advocate, Nelson undertakes her own advocacy in her arbitration practice and will be a strong addition to Reed Smith's international arbitration team. She is highly regarded by clients and this year was selected for the Legal 500 'Hall of Fame' which highlights individuals who have received constant praise from clients for their continued excellence.
Lahiri is a leading arbitration lawyer in the field of oil and gas and infrastructure disputes with more than 20 years' experience of practising throughout Asia and the Middle East. Noted by Chambers for his 'vast knowledge and experience in handling complex construction disputes', he is a barrister and a solicitor qualified in Hong Kong, Singapore and England & Wales. Prior to launching his own firm Lahiri LLC in Asia, Lahiri was a partner at Pinsent Masons. He will also provide connectivity between Reed Smith's practice in the Middle East, India and the international arbitration hubs of Singapore and Hong Kong.
"We are over the moon to have Sachin, Michelle and Shourav join us, their recruitment underscores a key investment focus of our continued international growth. Sachin, Michelle and Shourav are regional veterans in the Middle East legal world, each widely acknowledged as outstanding practitioners and strategic thought leaders", said Prajakt Samant, global chair of the Energy & Natural Resources group.
Reed Smith was one of the first international law firms to commit to building a presence in the United Arab Emirates. Reed Smith's Abu Dhabi and Dubai offices have become the hub of Reed Smith's practice in the Middle East, South and Central Asia, and Africa. The firm's longstanding relationships and history in the Middle East North Africa (MENA) markets, coupled with its global footprint, enable the firm to provide insightful, responsive legal services to multinational companies with operations, offices or interests across the region.