Shearman & Sterling expands senior Middle East team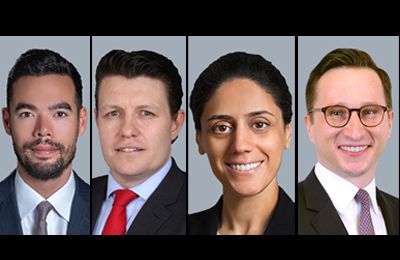 Shearman & Sterling announces the expansion of its senior team in the United Arab Emirates (UAE), with the election of three lawyers to partner and a further three to counsel. This is concurrent with the relocation of Capital Markets partner Pawel Szaja to the region.
The newly promoted lawyers have extensive experience across key sectors including oil and gas, renewables and green industrial projects, chemicals, power and water, infrastructure, construction, healthcare, financial services, food and agriculture and real estate.
Commenting, David Beveridge, senior partner at Shearman & Sterling said, "Our newly promoted colleagues are outstanding lawyers with unique backgrounds who all share a commitment to the highest standards of client service. This continued investment in our Middle East team is indicative of our commitment to the region and the breadth of our capabilities across geographies. It is part of the continued execution of our strategy to expand our core practices with the greatest potential for the firm, aligning with market opportunities."
Commenting on the expansion of the firm's Middle East offering, Renad Younes, regional managing partner for the Middle East, said, "The recent promotions are a recognition of the significant contributions these lawyers have made to our offering in the Middle East. It is indicative of our commitment to providing clients with both a deep team of preeminent lawyers, and a diverse mix of backgrounds, experience and expertise representing the region in which we are operating. Our enhanced senior team will continue to advise the region's most sophisticated domestic and international clients on the their most complex deals and high-profile cases."
The recently elected partners in the region are Jade Chu (UAE-Mergers & Acquisitions), Brendan Hundt (UAE-Project Development & Finance) and Laleh Shahabi (UAE-Project Development & Finance).
In addition, Pawel Szaja, a Shearman & Sterling Capital Markets London based partner, will join the Capital Markets practice in the UAE this summer. Pawel will be splitting his time between the firm's UAE and London offices.
The three UAE associates promoted to counsel in the Middle East are David Hume (UAE-International Arbitration), Alexander Nordang (UAE-International Arbitration) and Samuel Ogunlaja (UAE-Project Development & Finance).