The Bench expands in the Middle East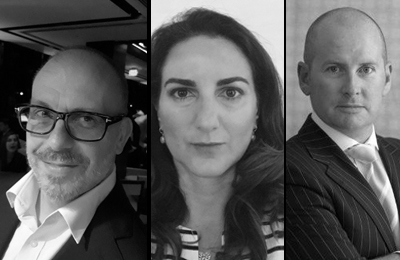 The Bench FZE has announced the addition of John Stamper, Nadia Barton and Gerard Hobby to its team of legal consultants.
Stamper joins the Bench from beIN Media Group where he was senior legal counsel, international legal affairs. Prior to that he worked in the employment teams of Al Tamimi and Hadef & Partners here in the UAE, after a decade as head of legal Services for a plc consulting practice in the UK. Stamper is also a Judicial Officer for World Rugby and Asia Rugby dealing with disciplinary matters on behalf of the sport's governing bodies.
Barton joins The Bench from Dentons, Dubai where she was a senior legal consultant in the Construction & Dispute Resolution practice.  She is a construction & engineering law practitioner with over 20 years' experience, specialising in major projects, commercial property and infrastructure development with extensive experience in PPP/PFI both in the UK and internationally. Most recently Barton has been advising Dubai Multi Commodities Centre (DMCC) on the mega mixed-use property development, Uptown Dubai. Prior to relocating to Dubai in 2010, she worked at Clifford Chance, London and Simmons & Simmons, London and Paris.
Hobby has over 26 years' experience in the MENA region, including over 20 years in Dubai. He has a broad range of commercial experience in corporate, contract, private client, regulatory law and related disciplines across international borders. Gerard was part of the team that established the Dubai Technology and Media Free Zone (now the Dubai Development Authority Free Zone) in the early 2000s. Subsequent to that he was chief legal officer (general counsel) of Dubai Holding LLC (the holding company for the Jumeirah Group, Dubai Properties Group and TECOM Investments) from its inception in 2004 until 2017, and more recently, the registrar of companies for the Dubai Development Authority Free Zone.